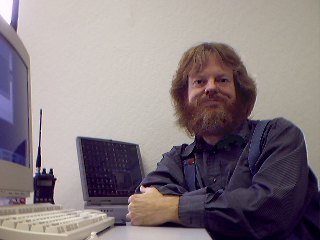 Mark Jeghers is an independant Graphical User Interface Contractor and Instructor. He has developed using C, C++ and Java on several platforms, including Windows 3.1/95/98/NT/XP, X-Windows, Motif, and OpenVMS. He is Java Programmer Certified by Sun Microsystems. He has taught extensively in the San Francisco Bay, as well as to other audiences around the US.

He has also provided specialized expertise developing interactive graphics with Win32, MFC and ATL/COM and multimedia playback on Windows 95/98, Motif user interfaces, custom widgets, session management, and complex color graphics.

He has provided consultation in non-GUI software retrofitting, cross-platform portability, and overall GUI product design. He has developed a specialized spreadsheet component, based on MFC and COM, for displaying engineering data. He has also published articles on the state of GUI development.

He is currently assisting in the Graphical User Interface design of CAD software for large industrial plants. He is developing a C++/MFC multimedia "photo album" system called PhotoViewer - it is currently in beta-testing. He is also developing Windows-based C++ software for the analysis of amateur high-power rockets.

For fun, Mark operates on Ham Radio, he build and flies high-powered model rockets, and he makes sushi at home for guests.